5 tags
They Will Never Know
I'm still here. I have no clue how I'm already halfway there! 20 weeks today and feeling great! Thank you to everyone for all your sweet messages and texts after announcing the news of our little girl! We are pretty stoked….to put it mildly. Brad and I decided to find out privately whether baby #2 was a boy or girl, so we had the tech put the ultrasound photos in an envelope and decided we would...
1 tag
Drum roll, please!!!! It's a........
RockSockRobot from Jennifer Davis on Vimeo.
3 tags
Boy or Girl?!
Well, today is the big day….we will be finding out the gender of baby #2! To say we are excited would be a gross understatement. My friend Steph did this when she was pregnant and I thought it would be fun to do the same, so I'm going to see what some of the old wives tales believe it is….boy or girl? High or Low? This one is hard for me to gauge. I am very tall and also have an extremely long...
2 tags
Save The Date!
I had another doctor appointment yesterday and you know how they really don't make pregnant women wait on the doctor (if you didn't know…they don't)…..well, I waited over an hour and a half before seeing mine! I guess there were a lot of pregnancy emergencies or something. Given my recent levels of impatience and frustration, I was genuinely surprised that this didn't really bother me. I think I...
A Ponytail and Mr. Potato Head Glasses
This is what happens when it rains all weekend and we are forced to entertain both ourselves and a two year old….. Did you just die a little? He's obviously better at this entertaining thing than we are! xoxo, jenn
4 tags
Crazy Antics of A Hormonal Mother
Lately my patience is not what it used to be….what it should be. This week I had to almost physically restrain myself from getting out of my car at a stoplight and knocking on the window of the car in front of me just to tell a teenage girl how reckless she was driving. Insane, I know. Dyce was in the car with me so that helped bring me back to reality (that also probably fueled my anger because...
7 tags
Crazy Mom Eyes and An Unintentional Haircut
So I have been messing around and STILL have not uploaded pictures from Dyce's birthday party…promise those are coming soon! In the meantime I thought I'd share a few images from the past week or so… A metallic cape from Jimmy and Amanda to match his metallic pants…duh! Slowest popsicle eater. Ever. This past weekend we took Dyce to the Discovery Place....
4 tags
Two.
Oh Dycie Doodle, two years ago today you entered this world and have been a force ever since. While God may have withheld any trace of physical grace when he made you, he replaced it with a rough and tumble presence that continues to catapult into each day with love, laughter and enthusiasm. We still have not cut your hair. Some people can't stand it (like your Papaw) but we think it fits you just...
Letters
After I found out I was expecting #2, I started writing to him/her. I decided I would occasionally share a few with you…. 02.04.2013 Baby D, Today one of my best friends had her baby, Noa Grace. A little after 4 in the morning we were walking around the hospital trying to get her contractions to regulate. She was tired, I was tired….but there we were, two best friends pacing the deserted...
2 tags
Cat's Out of the Bag!
So, yea, I'm totally knocked up again! Thank you for all the facebook congratulatory messages and texts I received the past couple days.  Glad you guys are as excited as I am to watch my uterus expand. Ha! So we found out about baby number 2 towards the end of January. Actually, the day we met with our realtor about listing our home, to be exact. It was a stressful day that led to many stressful...
3 tags
BIG News!!!!
Pairs from Jennifer Davis on Vimeo. NO April Fools joke….promise! :) xoxo, jenn
4 tags
Lesson Learned
Lesson learned this week: When your child says, "Eewwwwwwwwww, here mommy!", always grab a tissue or baby wipe before accepting their gift. 9 times out of 10, it's a booger. At least he's not eating them (yet). Ha! xoxo, jenn p.s. We finally found a rental and will be moving this Friday. SO ready to have all this over with. :)
5 tags
The Worst Day of His Life....
I picked him up from school yesterday and could immediately tell….he just had that crazy look in his eyes that said, Try me, I dare ya. Things started out smoothly as I pulled into a gas station to fill up. He started to get a little restless so I retrieved the small bag of goldfish I keep in the car……you know, the In Case of Emergency one. This allowed me enough time to finish at the pump and...
3 tags
Watch
Just a little something to brighten up your Wednesday! A video of my two hearts in action….
No Place Like Home
Hello Strangers. Yes, I'm still here. I know you were probably doubtful. It's been a couple of weeks but things have been beyond crazy around here. We sold our house….in 6 days! We couldn't believe it either. While we are thrilled that it sold so quickly, this also meant that we had very little time to decide our next move. We still have very little time….just a few weeks to be exact, and...
5 tags
The Farmhouse and Socks That Don't Match
I thought I should probably catch everyone up to speed on what's happening in the home front as of late. I guess I'm bad about throwing information out there and just letting it hang because I have been asked about our house search (particularly the Farm House) several times this weekend. The Farm House is a "no go". Kinda sad….but not really. After digging a little deeper and meeting with the...
A Boy and His Dog
 Just a boy, who was separated from his puppy on a cold Saturday morning, so he pulled up a chair and watched her bask in the sun.  "Good Ra Ra. Ra Ra ouside. Pupeee ouside." And he kisses the window. Every boy should have a dog and I think Dyce is finally starting to grow on Rya. :) xoxo,  jenn
There He Is!!!
Dyce…? Dyce…? Dyce…? There he is! So you know how usually when you cover a kid up and they pretend to hide, it's the adults who walk around calling their name and act like they don't know where the kid is until they pop out? Well, not Dyce. For some reason he thinks that he is supposed to call his own name so he covers himself up and and sweetly calls...
5 tags
If Only I Really Were An Astronaut...
Over Christmas a relative asked me what the most surprising thing about becoming a mother was. I thought for a minute and said, Probably how much love I am capable of now. To think that I thought I knew what love was, and then to have him, made me realize that I had only really scratched the surface. It's scary. It's also comforting to know that God knows what you need, before you even knew you...
2 tags
Lady or Gentleman?
Hey guys! I know it's been a while since I wrote anything but I have been busy living and such. :) Today on Sunny Slide Up I shared a baby shower that my friends Muffin, Christine and I threw for our friend Steph. If you have time, scoot on over and check it out! xoxo,  jenn
8 tags
A Little More Work
This post is probably going to consist of some long winded rambling, so please bear with me. When I first moved away to college I probably gave hundreds of dollars to homeless people in the first few months I was there. I once had a gentleman ask me for some change and I told him that I didn't have any cash but he could meet me at the ATM across the street and I would get some out for him....
2 tags
Power In Numbers
Sometimes love is surprising, whether it's in its loss or gain. It's surprising just how much a blonde curl can make me smile, a chubby wrist can make me weak and the repetitive sounding of the word "mama" can stop my heart in its tracks. The defiant, independent nature that my son possesses leaves me hopeful of the greatness he can achieve. As a mother, this responsibility can be terrifying. As...
2 tags
Be Very Still
As I mentioned, this past weekend Brad and I toured a few homes that we were interested in. This entire process has already been very stressful for us. As an artistic couple it is important that we find a  home that not only fits our creative flare, but is functional and safe at the same time. It can be discouraging when homes with true character and history are getting harder and harder to come...
1 tag
2013
just being honest here. i feel like i have so much i want to say sometimes but dont have the time (or energy) to write it all down.  the renovations in our home are finished (i hope) but i have yet to take any "after" shots.  i found this amazing little farm house for sale and we are going to check it out this weekend. we drove by twice (only twice but if it was closer to the city...
2 tags
Christmas 2012
With family all over the place our Christmas can be a little crazy but this is the first year that we seemed to fit (almost) everyone in! We are still holding out hope that one year we will be able to spend time with Brad's mom and grandparents in Maine! Here are a few snapshots from our Christmas. We had such a great time with Dyce this year. He was actually able to understand the concept...
4 tags
2012 Christmas Card
Merry Christmas….. Love,  Brad, Jenn, Dyce and Rya! It's crazy to see how much Dyce has changed since our 2011 card, you can see it here!!!
3 tags
You Are My Sunshine
Dyce,  Since I use this space as a scrap book for our memories, I feel it's important to acknowledge what happened last Friday, December 14th, 2012. It was a parents worst nightmare and it took everything I had in me to not immediately pick you up from school. I had to excuse myself early from a lunch meeting when the AP bulletin came through on my phone. When I left for the meeting they...
2 tags
It's So Much More
It's hard to believe that you will be 20 months old this Sunday. 20 months. 20. I need to let that sink in a bit. You are more handsome than ever, with your baby blues and soft blonde curls that are always in your eyes. Papaw keeps hinting it's time for a haircut, but we argue that you are so close to being able to tuck it behind your little ears. We can't give up just yet. You are still so much...
2 tags
Toddlers or Terrorists?
I once read somewhere that toddlers are terrorists. While it may be irresponsible of me to write that, I have to generally agree that my son does, in fact, terrorize. Last week Brad and I received an email from one of Dyce's teachers. She had been trying to tell me that he started pushing other children and in the email she attached a video of him on the playground so we could see for ourselves. I...
1 tag
Hungry?
Feed the Fish….. xoxo, jenn
2 tags
30
This weekend I opted to spend time with a small group of some of my closest friends to celebrate my last weekend in my 20's. What better way to bid adieu than with those I spent virtually every weekend of my 20's with?! We escaped to the beach for a few days to enjoy each others company and reminisce on years gone by. I'm not sure what it is about 30 that gets everyone so bent...
3 tags
Home Projects, Take One
I feel like I have been neglecting writing here because I have been so busy with everything going on at home. Recently it occurred to me that I should probably be writing everything down here because not only will I one day like to look back on all this, but it might help me sort through all the thoughts and decisions Brad and I are facing for our family.  I know that I briefly mentioned that we...
1 tag
Time Is Real
Dear Dyce, Last night I woke up to you screaming in your room. I knew you had a bad dream by how upset you were. I ran in and scooped you up and you immediately threw your arms around me and fell asleep on my shoulder. I held you tight as I brought you in bed with your dad and me (your dad hates it when I do this because he thinks now you are older and I will spoil you. You'll never want to sleep...
3 tags
A Baby Girl Luncheon
As promised, here are a few pictures that I managed to snap of Danielle's baby shower.  Our friend Sarah was gracious enough to host the festivities at her home. We decided that a smaller, more intimate lunch would allow us more time to visit and spend with Danielle since she lives in California now. I designed all the place settings and labels to match our shabby chic theme. ...
2 tags
DIY Up In Here
Last week I mentioned that I helped host a baby shower for a friend of mine. I thought I would share a really simple fireplace decoration that I made. I am far from Martha Stewart  but lately I have been really enjoying little DIY projects. Maybe I will get around to sharing more with you at some point. I'm sure you have seen these before…. I had never attempted one before, but was...
2 tags
Weepy Mashed Potatoes
It was Friday. I wasn't sure what was wrong. I had been coughing for almost two weeks and all I wanted was to go home and sleep. I left the office around noon to meet the contractor doing work at our house. We went to Lowes and ordered the new sliding glass doors for our bedroom. It was a lot more than we were planning on spending because they had to be custom ordered. I guess that's what...
4 tags
Chewbacca's Mating Call
If someone were to write a tutorial on how to survive being sick when you have kids, it would look something like this: 1.       Pray 2.       Thank God for your supportive spouse/partner/family/friends 3.       Pray harder That was me this past week….a fever that I couldn't control, a headache that had me seeing stars, and a cough that would rival Chewbacca's mating call. I was glad to...
1 tag
3.
Three years, today. I wrote about how we fell in love…. xoxo, jenn
4 tags
Welcome to Fabulous Las Vegas!
I have been wanting to share pictures from our trip to Vegas for Claire and Brandon's wedding but I wanted to wait to make sure Claire had the chance to go through all the pictures I took at their wedding. Until then I thought I would share some pictures from our arrival and the bachelorette/bachelor party.  I think you can probably tell (by the carefully...
2 tags
Heart Explosions
This is what happened when Dyce discovered he could watch himself in my phone while I took his picture!  He started out making kissy faces and then moved on to singing. I love how he holds his chest….he must have really been belting out the tunes for mama! I can't even begin to describe the personality he has started to develop. My heart explodes every day. Hope you had a...
3 tags
Dyce-1, Mama-0.
Dyce is busy. Seriously, BUSY. He has too much to do and too many places to be. He has little time for discipline and almost dares us to even try. Lately he's made a playground of our bathroom. He spends almost every morning going through cabinets and pulling EVERYTHING within reach off the counter while I attempt to get myself halfway presentable for work. Hairdryer, contact case, hairbrush,...
2 tags
The Boy With Metallic Shoes
Today at Dyce's school they are having a fashion show. We have no idea what this will entail but are excited to see pictures of all the kids! Brad dressed Dyce this morning in a very fashion forward ensemble. I'm sure some of you think that we just grab the most random attire we can find and make our child wear it. I will admit there is some truth to this, but we really just want to...
2 tags
As He Is Right Now...
This weekend we spent the days soaking up the last remaining warmth of Summer. In the chaos that surrounds us in our everyday life, sometimes it's important to just stop and share a Popsicle, take your shirt off, and get sweet sticky kisses from the ones we love the most.  Press pause. Take it all in…..because he will never be as little as he is right now. xoxo, jenn
3 tags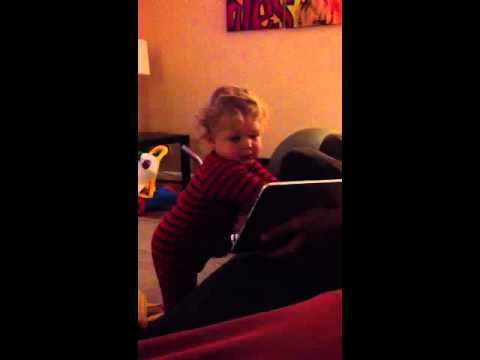 1 tag
17 Months
Dyce, Yesterday you turned 17 months old and we celebrated by going out for pizza after church with your friend, Boone! It seems like every day you change so much and learn so many new things that it's hard to keep up. Physically, you are a boss….a gentle giant, a bull in a china shop. I have no idea how much you weigh now, but it feels like you are much heavier than the 35 lbs. you were last...
1 tag
Head of Bed
Almost everywhere we go, people love to comment on Dyce's hair. It's funny because I never really notice that it's that crazy or different until someone points it out.  This morning there was no way I could have overlooked how incredible those blonde curls of his are! Feast your eyes, my friends, on the most gorgeous bed head I have ever seen! Have a wonderful weekend! ...
3 tags
Giving Adulthood the Middle Finger
I'm sorry things have been quiet here lately. Life has been crazy and I needed to take a break for a bit to clear my head and get my life somewhat in order. Brad and I have been tossing around the idea of moving and selling our home. While in heavy discussion about that, our air-condition unit leaked and caused flooding in several rooms. I'm sure most of you know the stress that can be involved...
3 tags
Des
Dyce recently learned how to say "Yes" when we ask him a question, which of course sounds more like "des". This has been very helpful at times (obviously). The downside, however, has been that he gets in this zone where he says "des" to everything! Last night he was in said zone and nothing could stop him. Enter - The comic relief of parenthood. Me: Dyce, I'm really sorry I squeeze you so much but...
4 tags
Listen Up...
I feel like I have been a little absent the past week or so as I try to get back to love…. If you don't know what I'm talking about, please read what I had to say. xoxo,  jenn